La NFL veta a Colin Kaepernick en represalia
---
---
Nueva York: más de mil personas se manifiestan en apoyo a Colin Kaepernick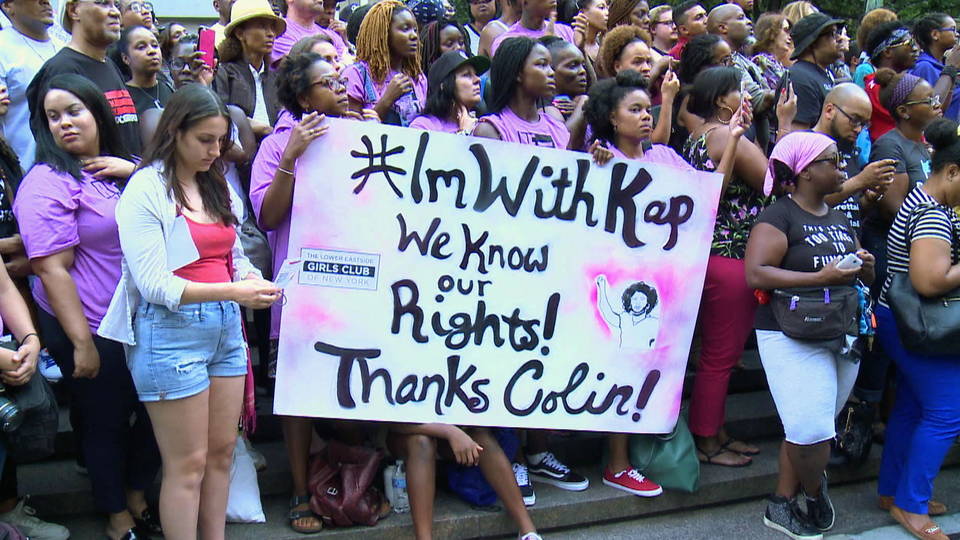 En Nueva York, más de mil personas se manifestaron en apoyo al mariscal de campo de los San Francisco 49ers Colin Kaepernick frente a la sede de la Liga Nacional de Fútbol Americano en Manhattan, el miércoles.
En la temporada pasada, Kaepernick comenzó a ponerse en una rodilla durante el himno nacional en rechazo al racismo y la violencia policial contra los afroestadounidenses. Su medida desencadenó protestas similares en la NFL y otras ligas deportivas profesionales.
Aún no ha firmado con ningún equipo para la temporada de 2017, lo que según algunas personas sería en represalia por su activismo. Estas son las palabras de Luis Franco, de 15 años, presente en la protesta del miércoles.
Luis Franco afirmó: "Me llamo Luis. Estoy aquí para protestar que estén silenciando a K y lo saquen de la NFL por poner su rodilla en el piso. Están matando a mucha gente negra y no hay justicia. Ellos piden justicia para todos. Todos somos estadounidenses. Todos vivimos aquí en Estados Unidos. Kaepernick pone su rodilla en el piso por toda la gente que no tiene acceso a la justicia, y está mal que la NFL lo saque y le diga que no puede jugar más. Yo juego al fútbol americano para mi ciudad y creo que está mal lo que está sucediendo. No me parece que tenga que enfrentar problemas por poner una rodilla en el suelo. Entiendo por qué lo hizo. Entiendo sus motivos. Yo haría lo mismo si estuviera en su lugar".
Colin declaró la razón por la que no se pone de pie ante el himno nacional:
"I am not going to stand up to show pride in a flag for a country that oppresses black people and people of color. To me, this is bigger than football and it would be selfish on my part to look the other way. There are bodies in the street and people getting paid leave and getting away with murder. ...
This is not something that I am going to run by anybody. I am not looking for approval. I have to stand up for people that are oppressed. ... If they take football away, my endorsements from me, I know that I stood up for what is right."
Sources: Democrqacy Now! / bleacherreport.com
Pics: DN!; 49ers.com